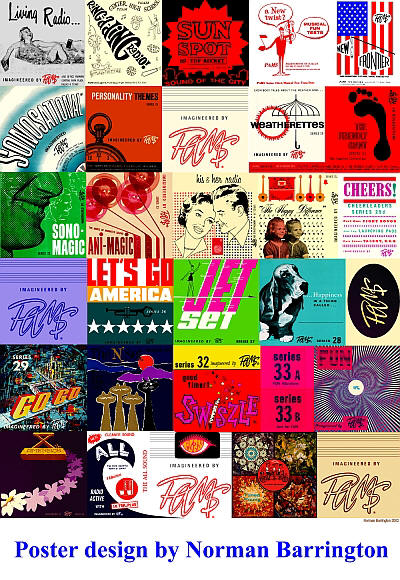 "The station with personality, WLS in Chicago" (1961)
"More Music, 93 KHJ" (1966)
"Music Radio, WABC" (1971)
These were a few of the slogans immortalized by primarily AM stations in the 1960s and 70s, the go-go years of the musical station identification jingle. Many were recorded acapella (no background accompaniment), but far more featured big band-style orchestrations typical of the 40s and 50s when key jingle writers like Tom Merriman, Euel Box, Jodie Lyons, Marv Shaw and Bob Piper and were in their formative years. The purpose of these short "songs between the songs" was to make radio call letters more memorable, and to give each station an image beyond its music and personalities. The concept was simple: the easier the call letters were to recall, the bigger the ratings.

Often slogans dreamed up by the jingle producers such as "The Now Sound," "Fun Vibrations," and "Music Power" became popular all over the country simultaneously as jingle companies "syndicated" their product. Using the same instrumental tracks as background, the producers would have talented vocalists re-sing the lyrics and call letters, customizing each package for stations from Portland, Maine to Portland, Oregon. In the 1960s, it would not be unusual for the same jingle package to be heard, albeit with different lyrics, in 50 to 100 markets.
While most young men growing up during this period were more interested in the latest records than the latest jingles, there were exceptions, one of whom was Jon M. Wolfert.

And why would I mention Jon? Because Jon is too modest to do it himself. Wolfert, a former employee of the original incarnation of PAMS, now owns a resurrected version of PAMS as well as JAM Creative Productions. (Visit www.jingles.com and www.PAMS.com.) He is a pioneer and an innovator in radio jingles, probably has the best ears in the business and has consistently turned out superior product for more than 40 years. From the time he recorded his first jingle he has been a tireless professional (I hope he gets some tires one day) and someone not willing to compromise. He's also a very nice guy. But let's go back to the beginning. (Cue the harp glissando and wavy lines.)

I first encountered Jon in the early 70s when we were both college students with more hair than common sense, and we became part of a group numbering fewer than a dozen who dared self-identify as "jingle freaks." This is not a pejorative term; it denotes a love of, and dedication to, the art of the station ID. Sort of like "Trekkers," but unlike that group, we all had lives. Quite an exclusive club, not that we had many breaking down the doors to join.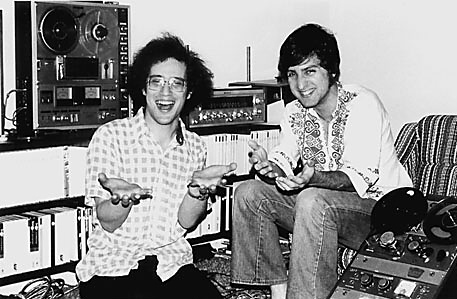 L-R: Jon, Ken 1975
Other jingle addicts of the era included Ron Harris, Ken Justiss and Ken Levine (making me the third "Ken" in the group). My first written correspondence with Mr. Wolfert came when I was a freshman at the University of Michigan in Ann Arbor, and he was attending Clarkson College of Technology in Potsdam, New York. It was February, 1971. Jon had ensconced himself at WNTC (640 AM) and I was torturing several listeners daily over WCBN (650 AM) at my university. While we were separated geographically by about 500 miles, we had a couple of things in common: neither of us was great on the air yet we both knew that radio stations were where jingles resided. Usually they were hidden in a bottom desk drawer in the program director's office until he tired of them, at which time he might just toss the master tape into the trash. Sacrilege!
Jon began his first letter to me in the same manner he began almost every piece of correspondence over the next 45 years: "Sorry for taking so long to answer you." Jon operated then, and still operates today, on his own schedule, known as Wolfert Standard Time (WST).
Each of us had been collecting jingles for several years, but we began to trade "dubs" (copies) which were mailed through the pokey postal service on reels of magnetic recording tape. Digital audio was still about 20 years in the future. Keep in mind that each time someone duplicated an analog jingle package, it picked up a little more hiss and general grunge. After about the third transfer down the line, it became pretty difficult to listen to. Our goal was to obtain the best quality station packages and if possible get "demo reels" in the mail from our favorite producer, PAMS. Demo reels, usually in 5" cardboard boxes, were sent to stations (and enterprising collectors) to preview jingle packages currently for sale. Sometimes these boxes featured colorful original art, sometimes just the name of the producer and the name of the jingle package unceremoniously stamped on the front.
Other companies that attracted our attention included Gwinsound, TM, CRC (all from Dallas), Hugh Heller Corp (Los Angeles), and Pepper Tanner (Memphis). Little did we know that within about seven months, young Jon Wolfert would get a job in the dubbing room at PAMS. We shall return to that topic in a future blog.
The word "sampler" today might refer to a piece of embroidery or perhaps an electronic gizmo that stores a tiny bit of digital sound for use in an audio project. The word had a different connotation to us. A "sampler" in our world referred to a tightly segued montage of jingles, perhaps with a theme.
I am guessing here, but I believe that the jingle sampler as we know it today began as a narrated "listening dub" which we would send to our friends to illustrate not necessarily entire jingle packages, but portions thereof, primarily to show off what we had obtained. Gradually these listening dubs became more elaborate, with longer jingle segments and other production elements.
If anyone was responsible for developing the concept of a jingle sampler it was Jon Wolfert. If anyone was responsible for introducing humor into these compilations, it was Ron Harris, a recovering disc jockey and later TM production guy and even later a big-time LA producer. RH's wacky sensibility permeated everything he touched. Styling himself as the "splice wizard," Harris, president of the imaginary RH Audio, was certainly adept with a razor blade and grease pencil, our tools of the trade at that time.
Ken Justiss, especially after arriving at TM in June, 1973, provided us with some fabulous collector's items in his samplers, described in his own personal style. His voice reminded me of Paul Harvey, but with a more amusing sense of wordplay. Ken became one of the key production and management people at TM during the 1970s before moving on to FirstCom and later a career in real estate. Ken also knows quite a bit about Sonovox, and you can find his work at www.SonoDallas.com.
I have added a few of my own jingle samplers to the Internet, and they can be found elsewhere on this site. While I don't have the experience in jingle production that Jon Wolfert has, the goofy sense of humor of Ron Harris, or the behind-the-scenes insight of Ken Justiss, I do have a considerable PAMS library and enjoy sharing it with as many collectors as possible.
---
Copyright Ken Deutsch, 2016. All rights reserved.