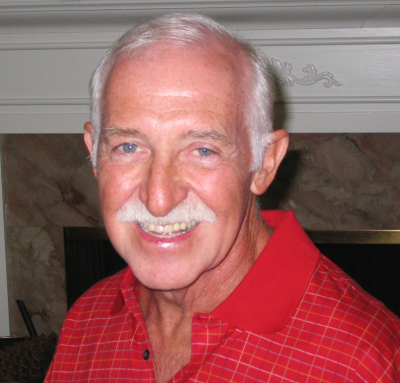 Ron Hicklin
You may not know his name, but you have certainly heard his voice on the jingles and records you grew up with.

He's Ron Hicklin and he was the guy jingle producers and ad agencies called when they wanted to book the best singers in Los Angeles. TV themes, movie sound tracks and of course jingles of all sorts were Ron's métier. If it was recorded between the mid-60s and the late 80s, you could do no better than the Ron Hicklin Singers. TM, Hugh Heller and JAM, among many producers used Ron's various configurations of male and female vocal talent.

TM Ron Hicklin Singers Demo
I had the privilege of talking to Ron at length for an article I wrote for a publication called "Goldmine" a few years ago and I found him helpful, self-effacing and kind on the phone. He also had a great sense of humor.

Here is that article, which I hope you enjoy.

Ken Deutsch
Monday, December 16, 2019
Ron Hicklin and the Voices Behind the Hits
You've heard Gary Lewis and the Playboys. Or have you?
What you were really hearing was mostly Ron Hicklin. How about the Partridge Family? The Ron Hicklin Singers (with David Cassidy). The Monkees? Up until their last album, it was solos from Mickey Dolenz and Davy Jones but primarily the Ron Hicklin Singers.
Hicklin and his hand-picked group of LA studio talent ghost-sang for bubblegum groups, pop acts like Paul Revere and the Raiders, Gary Puckett and too many more to count. He backed up Michael Jackson, Sinatra and Streisand and filled in as the Chipmunks and Jan and Dean. Beginning in the mid 1960s and continuing until recently, this vocal chameleon provided the secret voices behind the hits we remember. In fact, he can be heard on over 100 Billboard #1 hits.
"When I first started we would do the whole session live, with everyone singing and playing at once," said Hicklin. "I actually preferred it that way because I could make suggestions to the producer, we could put the accents in the right place or just do whatever it took. It was a more creative process. More recently when we were just overdubbing voices we could punch in (sing vocal tracks separately, sometimes a few bars at a time) and get perfection, but we were stuck with what it was. We became just like synthesizers carrying out the assignment."
Hicklin, a consummate sight-reader, believes that the success he had was mainly attributable to "casting," or picking the right vocalists for each project.
"If you have the right people all working together you climax at the same time," he said. "I liked the adrenalin of the first few takes. After singing something 22 times it became monotonous and plastic."
A good example of this occurred when Hicklin was working with Academy Award winner Burt Bacharach.
"We had about 26 voices in the studio and we were singing live with the orchestra and the first take was wonderful," said Hicklin. "But Burt kept having us do it over and over and it got ridiculous. He ended up using the first take."

And the hits keep coming
Hicklin had to laugh at the flap over Milli Vanilli, a pop duo which did none of its own singing and had to return its 1990 Grammy when this fact was discovered.
"Everyone said, 'oh my god, other people were singing for them!'" said Hicklin. "There was an article that came out about the top ten 'ringers' in the music business and I had sung for three of them, Gary Lewis, the Monkees and the Partridge Family!"
Recording with producers like Leon Russell and Snuff Garrett led to gigs with other hit makers, but the money wasn't fabulous at first.
"After 'This Diamond Ring' became a hit I got a check from Gary's dad, Jerry Lewis," said Hicklin. "It was only for about $25 and I wanted to frame it and hang it on my wall as a keepsake, but I needed the money so I cashed it!"
While Hicklin was paid a pittance by today's standards for these quick sessions, keep in mind that $25 went a lot further back when one could purchase a 1965 Mustang for about $3300.
Hicklin worked on many projects with Mark Lindsay of Paul Revere and the Raiders, including commercials. While most of those radio spots came and went, hits like "Arizona," "Silver Bird" and "Indian Reservation" are still played today. Actually "Silver Bird" returned as a series of Yamaha motorcycle commercials that the two men worked on together.
But Ron Hicklin did more than sing.
"If the producer had a vocal chart, we just sight-read it," he said. "But if there was no chart I would have to write one, or make one up like we did when we backed up the Everly Brothers. We didn't get any extra money for that."
In 1966 the Monkees' producers had a problem. They had auditioned four individuals to form the group who had never worked together. The hits weren't happening.
"The record company went through a number of producers trying to get them recorded," said Hicklin. "Somewhere along the line they hired Snuff Garrett who brought me in with a couple of other guys and we did three charts in 20 minutes. I ended up doing a lot of the background vocals myself once Tommy Boyce and Bobby Hart were in charge. I sang on "Last Train to Clarksville" and a lot of their other hits. Eventually the members of the band got a little thin-skinned because someone was singing their records for them. The Monkees recorded one last album, deciding to sing all the parts themselves. It died and their whole act died."
But that wasn't the end of the story. Hicklin had been contracted just to sing the records, but Colgems used these songs on the Monkees TV show as well. Hicklin had to file a claim with the Screen Actors Guild and ended up settling for an additional $1400. For that sum, his music could air in perpetuity on TV.
That gig led to The Partridge Family albums and TV shows. Hicklin and fellow studio talents Jackie Ward, John and Tom Bahler, Stan Farber and Sally Stevens sang the music for the pilot, which led to the Bahlers, Hicklin and Jackie Ward continuing to sing most of the music for all 195 TV shows. As with the Monkees, Hicklin wasn't paid for the airing of the songs on TV. Once again, he had to file with his union to get what he was owed and this time the settlement was about $100,000, which was split among the vocal talents involved.
Ron Hicklin and his singers then slipped into one of the longest and most satisfying jobs of their lives, the phenomenon known as "Happy Days."
"We sang the main title with five or six singers, then I came in later and did all the scene segue cues, then we did a lot of sound-alike hits they used in the background," said Hicklin. "I would bring in whatever vocal talent I needed to sound like the Platters, the Beach Boys, whatever was called for. Finally the people at Paramount just let me do my thing without a lot of interference because they knew I could do it right. We did 11 years on that show and then 'Laverne and Shirley' was spun off for nine more years, then 'Joanie Loves Chachi.' It kept mushrooming."
Hicklin still gets small residual checks every time those shows run in syndication.

Whistle while you work
During the 60s and 70s Hicklin was hired for his ability to pick the right singers for the job, his speed and his dedication.
"I wanted to be easy to work with," he said. "That's why I never asked for a higher rate than scale. I knew I was replacing session singers that had been in the business for years and they were moved aside when they were in their 40s for being too old! I thought I would have a short career, but it lasted 40 years."
Hicklin believed that he had to create a hit every time he went into a studio. When he discovered other vocalists he liked, he brought them into his talent pool.
"If I didn't do that, they would become competition," he said.
Occasionally, a session worked perfectly.
"We sang the soundtrack to 'Glory' for James Horner and we had a whole room full of musicians and 50 singers on an MGM soundstage," he recalled. "It was a piece of music that was 12 or 14 minutes long and we gave it our best shot on the first take. It was spectacular. Horner listened to the playback a few times and then said to us, 'thank you very much and good night.' Every time I hear it I love it."
After many years of being the "go-to" vocalist in LA, Hicklin formed his own company, HLC, in 1982 to produce commercial jingles. In 1987 he formed Killer Music, a four-studio complex in Hollywood, and in 1990 co-founded Killer Tracks to create music libraries.
But during his "gun for hire" days, what drove Hicklin to get up in the morning? It wasn't the money, although that began to roll in eventually.
"I wanted to end the session by leaving a silver bullet," said Hicklin. "I wanted everyone to ask, 'who was that masked man?'"

Ken Deutsch is a former jingle studio owner and radio broadcaster.
---