The typical listener who turned on his or her transistor radio in the 1960s remembers The Beach Boys and the British invasion.
Those of us in radio who listened back then also remember "The All Americans" and "Radio A Go Go." These are some of the classic jingle packages that shaped the sound of great AM powerhouses like WABC in New York, WLS in Chicago, KLIF in Dallas and WFIL in Philadelphia, among others.
The company that created those fondly remembered jingles and syndicated them around the world was PAMS of Dallas.
From 1961 to 1972, PAMS broke new ground and provided many memorable themes for its client stations, most of which were top-40 formatted. PAMS invented "Music Power," "Fun Vibrations," "The Station With the Happy Difference" and many other catch phrases.
However, by 1978, the party was over for PAMS. The IRS stepped in and carted off thousands of multitrack master tapes, reference copies of original jingle packages, desks, filing cabinets and office furniture for nonpayment of taxes.
A padlock was placed on the door at historic 4141 Office Parkway. Like the ending of a song, PAMS just faded away.
The Toledo connection
I had always loved jingles, so when I had the chance I entered radio in the late 1960s.
After being involved with different facets of radio, in 1980, I decided to switch gears. I was running my own small jingle studio in Toledo, Ohio, cranking out little ditties for car dealers and shopping centers.
In the summer of 1980 I received one of those calls that change your life. A radio buddy asked me if I had heard that the PAMS tapes were sitting in a warehouse in Plano, Texas, and that someone wanted to sell them off.
I called the number in Texas and told the guy who picked up the phone, "Don't do anything. I'll be there tomorrow." I grabbed my checkbook and a toothbrush and hopped the first flight for Dallas.
The warehouse that held this treasure of tapes was tucked in among a number of nondescript industrial buildings just outside Dallas.
The man who had purchased the PAMS tapes from the IRS pointed me to a door and said, "Take a look."
I swung open the door and stepped into a room approximately the size of a small airplane hanger. In that huge musty room, piled to the ceiling in hundreds of wobbly stacks, were all the tapes that were painstakingly created by the greatest jingle company in the world.
I spent three of the happiest days of my life pawing through the cardboard crates, looking over the discarded master tapes. I saw reels marked "BBC Custom 1971," "KHJ Experiments," "Watermark: Casey Kasem American Top 40" and hundreds of other mind-boggling titles.
I do not remember if I ate any meals during those days or even if slept. But I do know I was having a great time.
The Tenth Dimension
In 1968, William Meeks, president of PAMS, decided he was going to top his competitors. If the other studios had eight tracks to record on, Meeks wanted 10. But how could it be done?
"Dick McGrew, a fellow PAMS engineer, gathered 10 Ampex 'B' model amps and stacked them one above the other in an open rack," said Tom Loy, former PAMS recording engineer and musician. "He used an Ampex 300 top plate and capstan drive."
Meeks ordered the specially made 10-track head from Ampex and later ordered a second one for another studio.
"They were always hard to maintain and difficult to align," said Loy, "and noisy as hell!"
These heads were designed for a 1-inch tape width.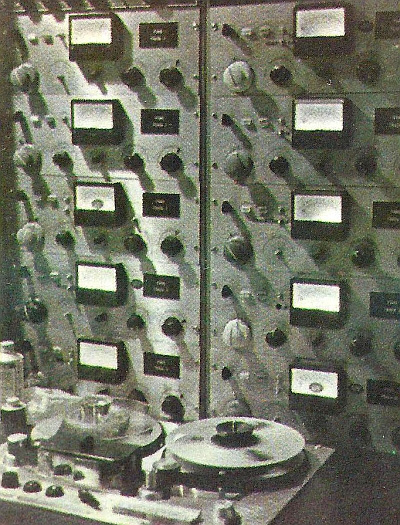 The Ampex 10-track
Jon Wolfert, now president of JAM Creative Productions in Dallas and owner of PAMS Productions Inc., was employed at the original PAMS from 1971 through early 1974 and had occasion to work with this unique machine.
"It was a pain in the neck to use," said Wolfert. "It had manual head lifters that you had to activate every time you wanted to rewind or fast-forward. It was just an Ampex on steroids."
One of the first jingle packages PAMS recorded with the machine was called "The Tenth Dimension," in honor of the 10-track head. PAMS writer/arranger/singer Marvin Shaw used this format to realize his concept of a "grid" package of jingles.
These grid packages involved the vocal group singing the station call letters on two tracks and various slogans and feature intros on the other tracks. With careful mixing and cross-fading of these layers of voices, PAMS could deliver a large and flexible group of cuts in which the same call letters would be joined with many other lyric lines.
The 10-track machine was phased out in the early 1970s when a 16-track, 2-inch machine was purchased by PAMS. That format remained the studio standard for the next 20 years.
Now what do I do?
One would think that because I was the only potential buyer, I would have been able to name my own price, but, it didn't work out that way.
Using my shrewd skills as a negotiator, I managed to bid up the price way above what common sense would dictate, probably because I was drooling.
After we struck a bargain and a check was proffered, I casually asked the seller why he had bought these tapes. He said he had planned to bulk-erase them and use them to record syndicated religious shows. To a jingle fanatic, this would be similar to using the Mona Lisa for its scrap canvas value.
After renting a giant van, a lady friend and I loaded and hauled everything we could grab back to Toledo, Ohio.
My inventory showed well over 5,500 1/4-inch reference reels with mono or stereo mixes of jingle packages, about 150 master 1/2-inch tapes recorded in either 3-track or 4-track format, about 95 master 1-inch tapes recorded in a unique 10-track configuration, and about 180 master 2-inch tapes recorded in 16-track format beginning in about 1971.
I turned my condo into a warehouse and had special floor-to-ceiling shelves built. There the tapes remained until the late 1980s.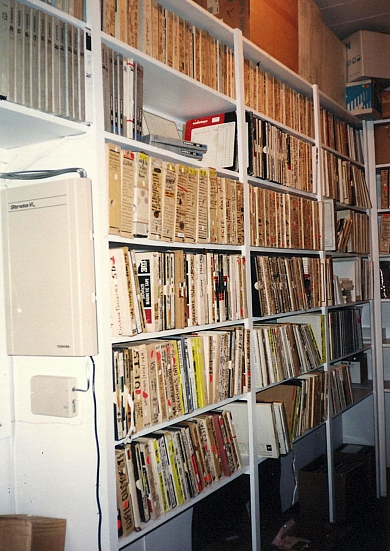 A familiar sight: shelves filled with analog tapes
(Photo courtesy Ken Deutsch)
Back that thing up
By 1987, it occurred to me that the original tapes eventually would self-destruct. Some were already 30 years old. I purchased the first of many DAT machines in late 1987 and began archiving the mono and stereo reference reels.
Many tapes recorded between 1960 and 1969 had paper leader between the jingles. Over the years, the adhesive from the splicing tape had dried out, so the reels broke down at almost every splice. I could see this was going to be a task.
I had to laboriously re-leader many of the tapes with plastic timing tape and add fresh splices before I could even play them.
Of course, most of the tapes from the mid-1970s squeaked because that infamous back-coating problem. When a reel was bad enough that neither reducing the tape tension or bypassing the left tension bar helped, baking was necessary. Baking allows you to play the tapes a few times in order to transfer them to another medium.
To harden the coating, simply transfer the squeaky tapes to metal flanges and place them in a kitchen oven at the lowest temperature setting, which is about 130 degrees, for approximately eight hours.
A few more tips: Check with your wife before attempting this, and let the tapes cool for a couple of hours before you grab them.
Also, some of non-stereo reels sounded much better using either the left track or the right track only, panned to mono. This is from storing the tapes when one of the edges became wrinkled, causing a fluttering dropout sound.
I brightened tapes that were muddy-sounding. I rolled off the appropriate frequencies if it had an overly bassy sound. A handful of tapes were recorded badly out of azimuth. We just did the best we could.
Transferring this many tapes took several years.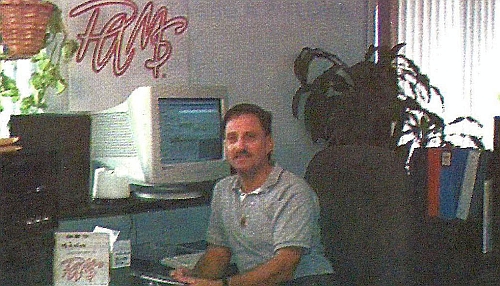 Comfort is important when transferring hundreds of hours of tape
Even when noise reduction algorithms became available, I decided not to use them. The reason is other techniques for removing tape hiss will be developed in the future and I did not want to do that process twice.
About 80 percent of the tapes were in surprisingly good condition. Many packages recorded between 1962 and 1967 sounded like they had been recorded yesterday.
Occasionally. I would find a tape that shed a lot of oxide. In those cases, I transferred a few jingles, cleaned the heads and guides, then dubbed a few more cuts.
On a very few occasions, the speed of the original reel seemed to be off slightly. Using the vari-speed on the Otari MX-5050 reel-to-reel decks, I was able to compensate.
Here is another tip: Always use a large-hub 7-inch reel and take-up reel. It minimizes tension problems and slight speed fluctuations.
Transferring these precious master tapes was partially a mechanical job that involved copying information down properly and setting good levels. Part of the job required careful listening as the EQ and speed had to be just right. And often, the cut sheet inside the boxes did not accurately describe what was on the tape. I had to figure out when to ignore information provided by the original mixing engineers.
One of my jingle collector friends is transferring every single jingle package from my DAT tapes to CD. I think it is a good idea to have redundancy when storing priceless audio on something as unreliable as DATs.
A 10-CD set called "The Magic of PAMS" chronicles all of the numbered series and is available through www.PAMS.com.
This article also appears in Ken Deutsch's "The Jingle Book". For more information and to order, go here.