Wonderful WORM Radio | Much More Wonderful WORM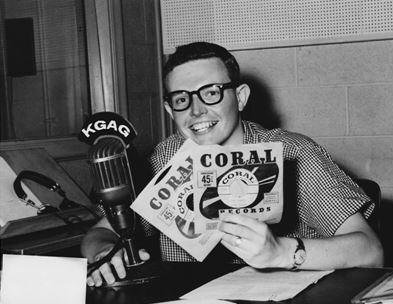 This Broadcast Is Brought To You By….
My family has a rich history in broadcasting. You know about some of my relatives, but I don't think I've mentioned Tim Burr who spun the platters on KGAG in Sacramento in the 1950s.
An ad agency approached him to pitch a new product on the air, "Slime-O-Leen," which, when applied to vinyl records, was supposed to make them sound perfect again. The stuff actually worked, but what's more, Uncle Tim also discovered that when he rubbed it in his hair, it gave him a distinctive slick look that became his trademark!
Tim never bothered running this extra income through the station. He just took the $10 a week "under the table" and plugged the product on his show each night. The station knew about this arrangement, but allowed it to go on because Tim's regular salary was only $25 a week and management didn't want to lose a good announcer.
Of course this situation couldn't go on forever. Strangely, Tim was never investigated for "payola" like many of his contemporaries in 1959, but because he was dating the station manager's daughter, Pearl Button, he was fired for sexually assaulting a minor. Pearl, an attractive young woman who was quite well-developed for her age, was only 16 and "Slime-O-Leen" residue was found all over the back seat of her car. Tim quietly slipped out of town and was reduced to selling used ironing boards in Skagway, Alaska.
It was a sad end to a great radio career.
---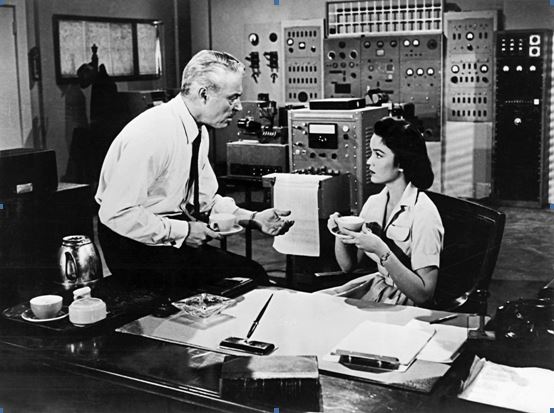 A Near Miss in Radioland
November, 1963
You see depicted above on the left my uncle, Hugh Jorgen, who was program director at WORM. With him is a cub reporter, Ginger Vitus. It seems Ms. Vitus forgot to check the AP wire for several days, entirely missing the assassination of John Kennedy. While all the other stations were playing classical music and reading news bulletins, we were still counting down the biggest hits of 1963. The silver lining was that we had great coverage of the Thanksgiving Day parade in the Pomona area because she was right there on the scene.
You would think with the warning uncle Jorgen had given her that Ginger would have been more careful after that. However, just two months later she was at the beauty shop getting a permanent the day the Beatles arrived in America. Just to "neaten things up around here," she disposed of all the AP wire copy lying around and again we were caught short. When Uncle Hugh found out, he tried to turn a negative into a positive by cutting promos for air that boasted that WORM was "the only station where you won't hear the annoying "Fab Four." Obviously this "Beatles-free" strategy didn't work out well. The next Hooper Rating showed that we had sunk from number one in most demographics to a position below the shortwave and ham stations. I don't think we ever really recovered. But to think it all happened 48 years ago. It seems like last week.
---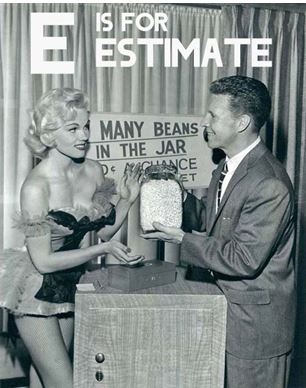 E is for Estimate!
This was a very short-lived TV show, but one I never missed!
WORM used to have a sister TV station which was located right behind the radio station, and it was good old channel 61, WMLP (which I believe stood for "Money-Losing Proposition"). The problem was that back in 1960, only about 31 people in Pomona had UHF receivers, so almost no one got to see "E is for Estimate" or any of our other sterling programming. We're talking about great shows like "Name That Disease" with Dr. Gene Poole, "Walking in the Weather" with Raynor Schein and "Readers Club of the Air" with Rita Booke.
But back to "E is for Estimate." We had the vivacious "Bean Girl," Kara Vann, depicted above. To her left is the host, Art Major. Of course everyone was curious about the actual number of beans in the jar each day. Viewers would call in and guess, but the prizes weren't much because the show was done on a very small budget. Someone might win a red Hula Hoop, a Pennzoil kielbasa (bet you didn't know a motor oil company made food back then), or the grand prize, as much liver as the housewife who won could stuff into her purse. It was pretty exciting!
Of course all good things must come to an end, and this show went out in a blaze of glory. One day Kara, "The Bean Girl," was leaning against the backdrop in the studio and caught her dress on a nail. That wasn't the problem. The problem came when at she lurched forward to catch the bean jar which was accidentally pushed off the pedestal, leaving most of her dress behind. Let the record show that she was a natural blonde.
---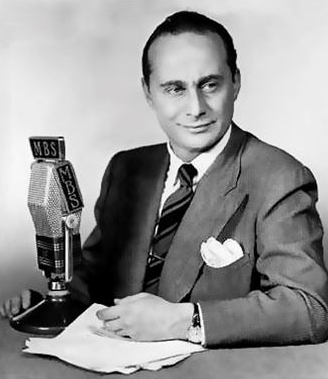 Easton West, Radio Pioneer
While looking up some old-time radio shows, I came across an odd one called "Make Time for Puppets," featuring Easton West, pictured in this network publicity shot.
The program was broadcast over the Mutual Network between 1955-1957. Unlike its more well-known sister shows, "The Shadow," "Mercury Theatre" and "The Green Hornet," this 15-minute daily program focused on the make-believe world of a group marionettes called the Corn family. There was Pop Corn, Indian Corn, Niblets, and well, you get the idea. How a puppet performance played on the radio, I'll never know! I guess if Edgar Bergan could pull it off, so could this guy!
Not much was known about West, or his daughter who was also featured on the show. Her name was Viola Solo, and she was a musical prodigy who provided accompaniment for the daily hijinks.
Only a few radio insiders know the full story behind this amazing show. Scroll down to see Easton in the original, un-retouched color version of this promotional picture.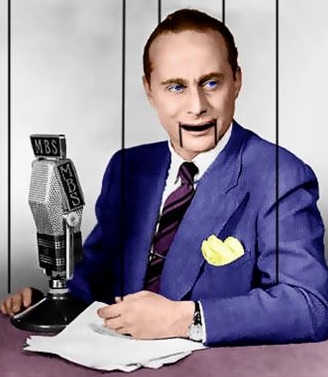 It turns out that Viola was the brains behind the operation, and she had several off-stage helpers pulling the strings for Easton when she was busy performing a musical selection. Viola was one of the first ones to discover the trick of "throwing one's voice," and she used it to full effect. Viola went on to a long career working for many of the early TV shows including Beany & Cecil, Jerry Mahoney and Jimmy Nelson's Nestles program. I guess she was no dummy.
---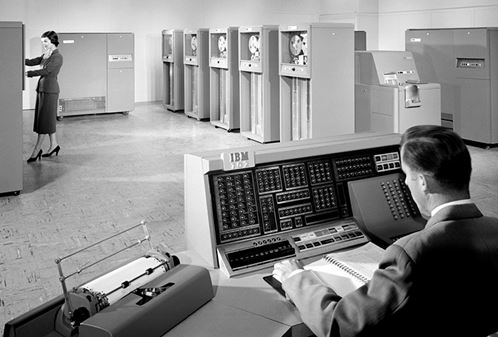 Farm Reporter Goes to Seed
For years the FM counterpart to WORM was WHRR ("Hog Report Radio") and a sleepy little station it was. We had this farm director, John Deer, who pretty much ran the show as he pleased. Back then Pomonans cared about sow bellies, soybeans and sorghum. Not generally known was the fact that John took money under the table from "big agribusiness" to mention certain seeds and fertilizers on the air every day. We called this "hayola."
This cozy arrangement would have gone on until the cows came home, except for the appearance of a sharp new accountant, Dee Major, who was hired in early 1970. Dee noticed that John's lifestyle didn't match his modest income. Every year he would take a lot of trips to farm conventions, always with a different female friend. How could he afford all this on $120 a week, she wondered. And incidentally, did his wife know about these activities?
After Dee gathered enough evidence of his financial malfeasance to report him, the topper came when she caught John committing an unnatural act with a hybrid cucumber on station property. She blew the whistle on him by calling the Pomona Star Press and for weeks lurid stories were splashed all over the paper. What an embarrassment for the station! John was fired immediately. We tore out his old FM studio and brought in giant automation decks so we could run a format we purchased from TM called "Saccharin Strings." I certainly never listened to the station again. While John Deer had been boring, at least he was live.
Pictured above is our then-new automation facility. That's Dee on the left and our new FM program director, Herb Alessence, on the right.
---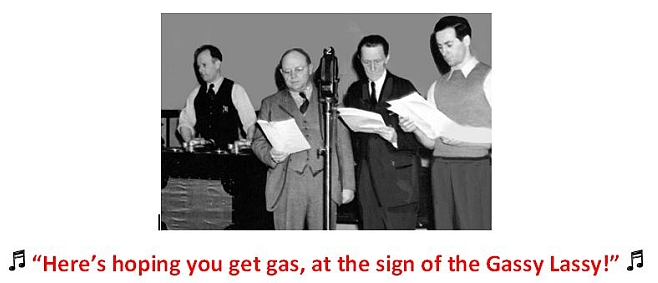 That was the catchy jingle sung by the "Gasmen," a group of singers at WORM in the olden days before top-40.
Each year (1930-1936) the station held a beauty contest to find "Miss Gassy Lassy," who would then be paid to traverse downtown streets on selected days and hand out shiny new quarters, which could be used to purchase gas at any Speedene gas station. Of course this was during the depression when gas was only $.17 a gallon.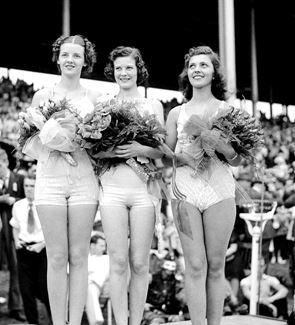 Above you see three of the finalists from 1933. L-R: Shanda Lear, Mary Annette, and Mary's sister Claire on the right, who was eventually crowned "Miss Gassy Lassy" that year. Back then, that was quite an honor!
---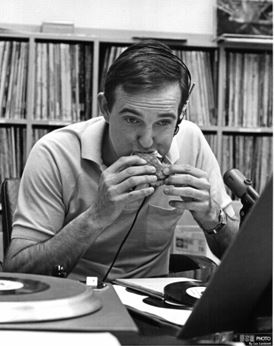 The Grub Club (AKA: Eating with Keating)
KCOW (AM) 1961-1963
You probably didn't know that I had a brief stint at KCOW in Des Moines where a buddy of mine and fellow jock, Ron Keating, had a cool idea. At the time "Lunchtime with Soupy Sales" was popular on TV, so Ron thought he'd delight his midday radio audience of housewives with a similar show.
The twist was that he'd let a different listener make him lunch each day, and in exchange, Ron would give each gal a personal tour of the radio station and a free album. If one of these women happened to be attractive, he might give her a little something extra, if you know what I mean and I think you do.
One such individual was Jo King, who after one of Ron's "special" tours developed an attachment for him. They were an item for a few weeks, and then Ron moved on to another Des Moines lovely, a woman by the name of April Schauer.
Jo was not happy to become a "hit from yesterday," I can tell you. She wanted to make sure Ron remembered her so she baked him a very special lunch, "Muffins a la Ex-Lax," and dropped them off at the front desk. Little did Ron know that HE was the one who would be getting something extra.
The muffins kicked in very suddenly as Ron was reading a community bulletin board on the air. To his credit, he held out as long as he could before intoning, "The Woman's Club of Des Moines is having a rummage sale on Saturday morning. I know you're going to go, and right now I'm going to go!" With that, he slammed an album on the turntable and dashed to the men's room. Des Moines was then treated to the entire first side of "Dee Dee Sharp's Greatest Hits," plus a minute or two of scratchy silence in honor of the death of "Eating with Keating."
---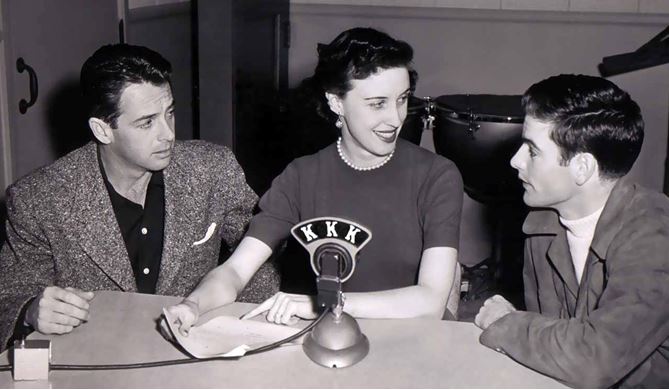 White Side of the Dial
You may not be aware of this but the Ku Klux Klan had its own radio station for a number of years. Based in Selma, Alabama, KKK (AM 1600) broadcast news and community affairs for its chosen demographic, the white race, from 1923-1945. After World War II, the Klan was forced underground and the call letters were changed, but when Hooper ratings began in 1935, the first survey gave "Radio KKK" a 41 share!
This was not the typically-programmed station of the time. Its community events calendar was an hourly broadcast feature, describing where the various cross burnings would be, which Jewish merchants would be boycotted that week, etc. In 1928, "Amos and Andy" began airing on Chicago's WMAQ, but recordings of these programs on 78RPMs were made available to stations like KKK, so the cast of colorful radio characters spread mirth throughout the south and gained great popularity with audiences in Alabama.
Advertisers on the station included regional laundry detergent maker So-Kleen ("gets your sheets as bright as they can be") and local Selma merchant Hardy's Hardware, which featured various brands of rope and lighter fluid.
Gathered around the KKK mic above are local minister Bjorn Again, program moderator Rachel Slurr, and young disk jockey Bob LaBla.
---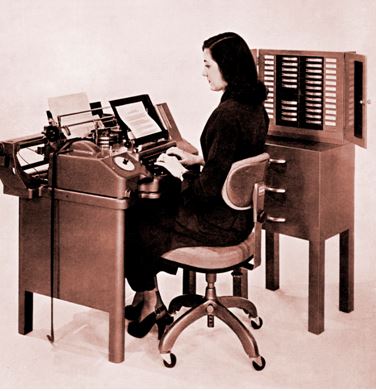 The WORM Log-O Meter, circa 1970
During the last days I worked at WORM, we used an early type of automation, depicted above.
The Magnavox Log-O-Meter was a device that allowed the operator, in this case the lovely Trina Forest, to enter the name of our advertisers and how many :60 and :30 second commercials each would be running the next day. This information could then be transferred onto our next program log.
The day after we took this publicity picture (which ran in the Pomona Star News!), the station received a rare visit from a big star, Paul McCartney, who was promoting his first solo LP after the break-up of the Beatles. Unfortunately WORM had an extremely conservative program director who believed that everything recorded after "Be My Love" by Mario Lanza (1951) was "devil music." Thus we didn't see many top entertainers in our office!
So when the handsome young mop-top walked into our lobby the excitement caused her to, well, wet her pants, to put it delicately. Unfortunately this trickle ran down her seat cushion to where the metal chair legs touched the metal floor where the Log-O-Meter stood, causing her to receive a strong electrical shock. There was a loud "POP!" and Trina let out a little gasp followed by a shiver. The next day when she came in, her hair had a big white streak in it and she announced she was joining a convent in nearby Ypsilanti.
You never knew what was going to happen at good old WORM!
---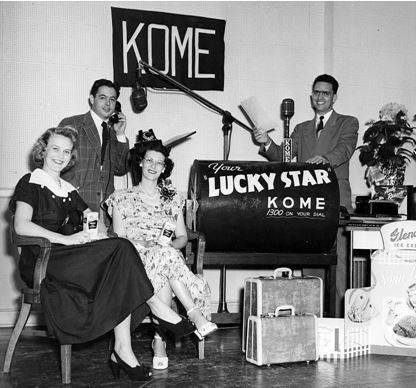 Your Lucky Star!
In the 50s, KOME (AM) was a funky little 1000-watt station in Kome, Texas. As you can imagine, it had very little budget for contests so they had to get creative! The GM's idea was to give away his employees, at least for a night. To the left of this picture, you see two station office gals, Judy Swallows and Anne Chovey, both very outgoing women who would do anything to help out.
The contest was called "Your Lucky Star," and the two men depicted above were also involved. Each day, Art Major (seen between the women) would pick a postcard out of the hopper that contained all the entries mailed in by listeners. The announcer, Mike Czech (right) would award that person a date with one of the four people above.
The station had a trade arrangement with several local restaurants including The Golden Stool Diner, so couples could get free meals, courtesy of KOME. For a while, everything worked great! Where this contest went off the rails was when KOME's sales staff arranged a trade with a local motel, Rod's Halfway Inn. This was supposed to be used only for out-of-town visitors, but well, things got out of hand and certain "Lucky Star" contestants got a little luckier than planned.
One night, KOME's general manager, Phillip Oliver Holz, stopped by this motel with his secretary, Clara Nett, for a little "meeting." Imagine his surprise when he ran into Ann Chovey with a male contest winner, walking through the lobby. Both couples gasped, turned the other way and ran out. What a merry puddle! Next week the station had a new contest, one with fewer potential complications.
---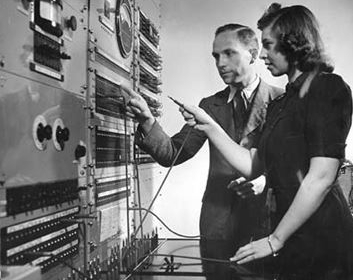 The New Phone System at WORM
I'll never forget the time we hired a new girl to handle the switchboard at good old WORM. Her name was Carrie Oakey and she was quite a gal. In this picture, you see our general manager Jim Shorts showing her the ins and outs of the system.
Carrie was, unfortunately, hard of hearing. This was not a good thing for someone in her position. When a caller asked her when the news would be read, Carrie thought the guy said, "I'd like to take you to bed," and she got pretty upset.
But other than that she handled the job of taking requests, lost dog reports and calls from confused advertisers pretty well. I say "confused" because after we switched from top-40 to news/talk, many of the sponsors tuned in their radios and were surprised to find we were no longer playing the Beatles, the Beach Boys or the occasional Kyu Sakamoto hit. Of course with Carrie's hearing problem, when they asked "How long has the music format been over?" she thought they said, "You'd look pretty good if you bend over," and the problems started all over again!
---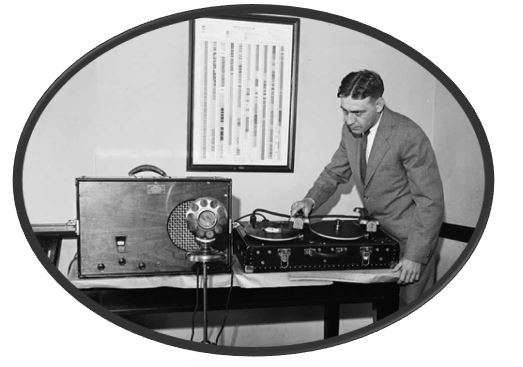 Papa Lizard Played the Platters
I was not the first deejay in my family. That honor belonged to my dad, the late Robert W. Lizard, seen here with what we believe was the first remote music set-up ever assembled.
Once he had cobbled this gear together, he would accept invitations to show up at supermarket openings, parades, weddings, or on one occasion, a salmon spawning. Yes, any event where music and snappy patter were welcomed. And this was in 1940, long before remotes were common.
It may not look like it here, but he was a pretty lively character, sometimes dancing with the housewives who would show up at his events. This brings us to another milestone for radio, the first fight ever broadcast live. It happened when one of the husbands in attendance noticed Robert W. dancing with his wife while the mic was on. That led to dad's second nickname, "Black-Eyes."
Robert W. Lizard was a trend-setter as you can tell by his fashion-forward hairstyle, later copied by Joe E. Brown. It's not widely known that he was also responsible for coining the classic phrase, "please stand by." It was uttered when he had eaten a trout that was past its "sell-by" date prior to a remote at the Buddy Frankowski Memorial VFW Hall. About an hour into his broadcast he felt the call of nature and put on the longest record in his collection, which was unfortunately only three minutes long, while he excused himself. When he returned ten minutes later to the sound of the end grooves repeating over and over, he picked up the needle, turned on the mic and ad-libbed, "That was the pause that refreshes!"
Hats off to Robert W. Lizard, radio pioneer.
---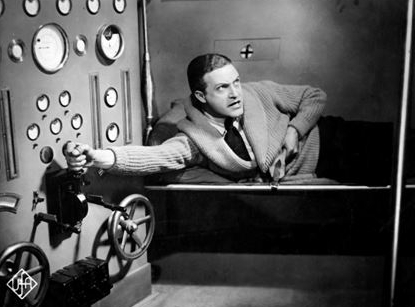 Tender Words
I don't think you ever met him, but our chief engineer at WORM was a guy named R. F. Towers and he was a classy guy! Always wore a white shirt and tie, and he put a rose on the receptionist's desk each morning. But the guy was lazy! Since he was the only one in the station with a "first ticket" he could pretty much call the shots. In fact R. F. invented the "endless break" when he put a cot right next to the meters. He would sleep most of the day and somehow, every half hour, he'd wake up in time to take the readings, which kept us legal.
Once he handed me his clipboard and told me to read the modulation monitor. The joke was on me because that thing kept bobbing up and down constantly and I had a dickens of a time trying to get one reading from it!
But I liked the guy because he went way back in the biz and was full of great stories. In fact he had a recurring role on a soap opera that was broadcast over the old NBC Blue Network from 1939-1941. I don't remember the name of the show, but it was some dramatic thing with a live organist. It was during a very quiet moment in the script, as R. F. tells it. He was pitching woo to Betty Grable of all people, when he had an unavoidable expulsion of gas that was quite audible. The guy in the booth couldn't believe it! But ol' R.F. covered for it nicely. He ad libbed to Betty, "my soul speaks when the moment is too divine for words."
---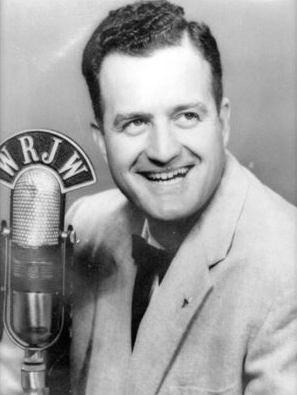 Tex
My grandfather, Stanley "Tex" Lizard, was quite an entertainer, and his radio home for many years was WRJW, Possum Breaks, Kansas. His show, "The Western Polka Roundup," combined what they used to call "hillbilly music" with the polka sound, and let me tell you, the audience loved him.
Gramps used to play his own cover versions of songs originally recorded by Wild Bill Krasinski and the Hollow Mountain Sausages, Pecos Tom Szblocki, and of course the many hits of Oscar "Branding Iron" Malinowski and his Hungarian Cowpokes.
"Tex" never mentioned it on the air, but he and his lovely wife Helen were both musicians, and both nudists, at a time before the latter was an accepted pastime. One afternoon Helen was performing with her own topless accordion quintet before a packed house at Sunny Time Recreation Park. The group was playing "Flight of the Bumblebee." Sadly, during the final chorus of the song, she became enmeshed in her instrument, which not only brought the song to an abrupt halt, but her accordion-playing days as well. Tex carried on over the airwaves of WRJW for several more years until his own career came to an end with a freak accident involving an electric guitar, a bucket of warm beer and a one-pound Polish kielbasa. But here's a big salute to my grandpa Tex, now performing at that big radio ranch in the sky.
---
Winning Big
It seems like only a few years ago, but in the early 70s I was a staff announcer at WPAG (AM/FM) in Ann Arbor. As a student at the University of Michigan, I had to fit in my radio work between classes, and one semester I came on the air at 2 p.m., right after the couple you see depicted above.
Constance Noring and Lou Pole held down the "housewife" slot, and this popular couple had been at WPAG for 20 years, sharing recipes, household tips and child-rearing advice on "Music and You with Connie and Lou."
They were not married, at least not to each other, but at some point during their partnership they became a couple. Because they did a pretty good job of keeping their relationship a secret, none of us in the building had a clue. As we later discovered, not only were they partners in love but they were also financial partners in a scheme to extort money from the station manager, Dwayne Pipe.
Apparently Mr. Pipe was involved in some shady business involving masking tape, a Lone Ranger costume, an egg timer and a hostess from the local Big Boy restaurant. Connie and Lou somehow obtained pictures of this sordid assignation and were soaking our "happily married" station manager for an extra $50 a week between 1967 and 1971. That was big money back then!
Suddenly in July, 1972 Connie and Lou disappeared and last I heard, they were doing a cooking show on some station in Aruba. However, whenever I drive past that Big Boy restaurant I have to chuckle.
---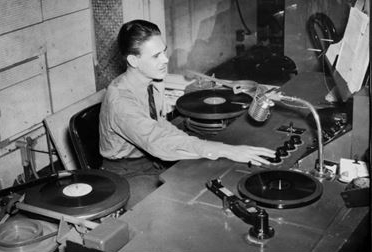 Three Times the Music!
You've heard all those phrases before. "More music more often," "the most music", "music is our middle name," and so on. Well, this station had them all beat, at least for a few minutes.
It was August, 1960 when morning man Brighton Early came up with an idea. "Other stations claim to play more music, but what if we played three records at the same time?"
Program director Douglas Furr was very enthusiastic, and was later overheard telling his secretary Lisa Ford, "This ought to give us a huge boost in those old Hooper ratings!" Up went 15 billboards promoting the fact that at 8:05 a.m., September 1 WORM would play three times the music."
The day finally arrived and as the 8 a.m. Impact News ended, Brighton Early slammed on the mic and shouted, "Ladies and gentlemen, this is going to be a first here in Pomona! We're going to play three records at once, three times the music of any other station! So take a listen to the Everly Brothers with 'Cathy's Clown,' Johnny Preston's big smash, 'Running Bear,' and Brian Hyland's "Itsy Bitsy Teenie Weenie Yellow Polkadot Bikini,' all brought to you exclusively on WORM!" And with that he flipped the switch that caused all three turntables to roar to life.
I don't know what Early expected to hear, but it sounded like a freight train slamming into a truck full of pigs. I know because I was there, looking over his shoulder and hearing the godforsaken racket blast out of the studio monitors. I'm sure people driving to work must have thought, well, I don't know what they thought. But I do know what the advertisers thought because they all called in to cancel. I know what the GM thought because he walked into the studio and fired Brighton.
The program director Douglas Furr, weasel that he was, told the general manager "I knew it was a stupid idea all along! What was Brighton thinking?" So when the dust cleared, Furr lived to fight another day. Typical! I never thought I'd hear myself say this, but dead air would have sounded a lot better than what happened when WORM played "three times the music."
---
Copyright Ken Deutsch, 2016. All rights reserved.